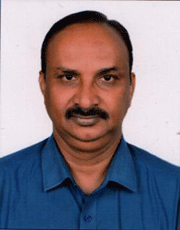 Dr.M.Jaipal Reddy
Associate Professor,
Department of Physics
Director IQAC
IQAC was constituted at Palamuru University in June, 2015 to function as the nodal agency of the institution for quality-related issues. Since its inception, IQAC has proactively taken up several quality measures to uplift the standards of teaching and administration. It is in fore front in promoting quality awareness among the institutional stakeholders through orientation and motivational programmes like seminars, workshops and interactive meetings whenever necessary. It has been the constant endeavour of IQAC to create a teaching friendly ecosystem and quality centric management in the University. Towards this end, it has been the striving to inculcate quality culture, so as to attain global standards in research, academia and extension activities.
The Director of IQAC is Dr.M.Jaipal Reddy, Associate.Prof.,Dept. of Physics, University College of Arts & Science, Palamuru University, Mahabubnagar, Telangana State.
Vision
The vision of IQAC is institutional eminence through pursuit of excellence and quality sustenance.
Mission
In tune with this vision, the mission of IQAC is to promote measures for institutional functioning towards quality enhancement through internalization of quality culture and institutionalization of best practices
Functions
To act as a dynamic system for qualityenhancement in the University

Promoting interaction with industry and society

Updating knowledge constantly among the faculty, non-teaching and administrative staff, and fostering global academic and research alliances.

To ensure collaborations and integration among the various activities of the institution towards quality upgradation

Facilitating the creation of a learner-centric environment conducive for quality education and faculty maturation through adaptation knowledge and technology for participatory teaching and learning process