Palamuru University has been established in the year 2008 as a State University by statutory enactment to cater to the growing requirements of Higher Education of the region in general and of Mahabubnagar district in particular. The University started functioning from the academic year 2008-09 with the then PG College of Osmania University at Mahabubnagar as the nucleus, where in five PG courses were being offered.
The New University set out with a vision and plan of action. On academic front, new courses (both regular and self financing) have been started and initial faculty recruitment on a modest scale had been taken up. In the very first year of its establishment during 2008-09, three Regular programmes study viz. M.A English, M.Sc Chemistry & M.Sc Microbiology were launched. During 2009-10, one regular course of M.Sc 5 Year Integrated Chemistry and two self financing courses viz. M.S.W and B.Pharmacy were introduced. To supplement the teaching arrangements, services of Academic Consultants and Guest Faculty have been availed.
Thanks to the support of State Government, alongside, the University focused on infrastructure development. In tune with the blue print, the university embarked upon the construction of four new buildings viz. Administrative Block, Academic Block, Library Building and Pharmacy Building and two Student Hostels - one for boys and one for Girls during 2011-12. Integrated campus development and creation of academic facilities and student amenities such as Auditoria, Class Room Complex, Sports Complex, Pharmacy Hostel, Internal CC Roads and the majestic Entrance Arch of the University, have been taken up in subsequent years.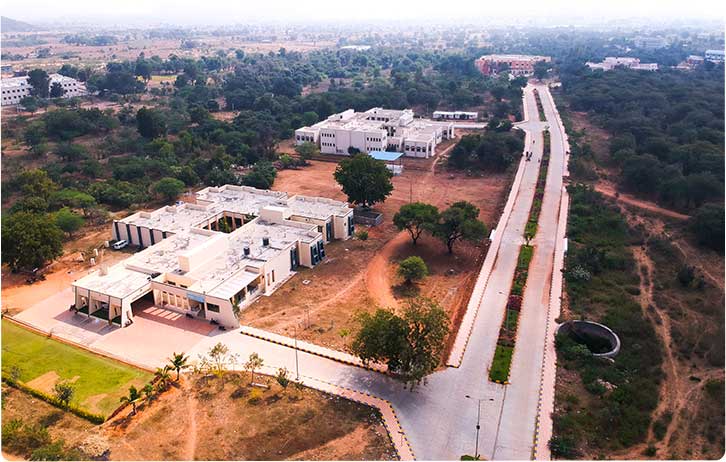 Palamuru University has paid equal attention to structural expansion. The scope and jurisdiction of the University has got expanded with the transfer of all the 123 affiliated colleges in Mahabubnagar district from Osmania University during 2012-13. At present 155 affiliated colleges offering diverse programmes of study - UG, PG and Professional, with student strength of nearly 60,000 constitute the academic landscape of Palamuru University.
Apart from the main campus at Mahabubnagar, Palamuru University has three constituent PG Centers at Gadwal, Wanaparthy & Kollapur under its administrative control. The erstwhile PG Center of Osmania University at Gadwal, defunct for more than 13 years, got reopened and became part of Palamuru University during 2012-13. The University is offering M.A English and M.A Telugu as regular courses here.
The State Government brought the PG Centre at Wanaparthy under the fold of Palamuru University during 2013-14, where in five PG courses viz. - M.Sc Botany, M.Sc Zoology, M.Sc Physics, M.Sc Chemistry and M.A English are being offered.
The new PG Center at Kollapur has been established under the administrative control of Palamuru University during 2014-15. To start with, three courses viz. M.Sc Mathematics, M.A English & M.B.A were offered here. Three more courses viz. M.Com, M.A Telugu & M.S.W have been added in the previous academic year. During the last seven years, Palamuru University has witnessed considerable progress. It is successfully pursuing the mission of empowering the youth in a predominantly backward tribal area of Telanagana State through access to affordable and quality higher education with equal emphasis on equity. In tune with this, it has been offering new courses relevant to our times at regular intervals. It has started two professional PG Courses viz. M.Ed and M.Pharmacy during 2013-14 to give impetus to Teacher Education and Pharma Education in this region. M.Sc Botany course was also started during the same year. During 2014-15, M.Sc Zoology, M.Sc Physics and M.A Economics have been introduced at the main campus.
Today, Palamuru University offers (17) PG courses at its main campus and (13) PG Courses at its three PG centers. There are more than 2000 students on rolls. The University is in forefront in implementing new academic initiatives and educational reforms such as semester system, Choice Based Credit System (CBCS), Grading system and continuous evaluation in its UG and PG courses.
Palamuru University has evolved fine academic traditions. It has accorded primacy to extension and outreach activities and forged linkages with industry, research institutions and NGOs in furtherance of its mission.
The University has secured recognition of the Pharmacy Council of India (PCI) for its B.Pharmacy course. It has also obtained the approval of the National Council of Teacher Education (NCTE) for its M.Ed course.
Palamuru University has been admitted under section 12(B) of UGC during 2014-15 paving way for its planned development. The University held its first Convocation in the same year. The University is striving to augment regular teaching and supporting staff and introduce Ph.D programme in select disciplines. It is planning to setup a Technical Campus at Jadcherla with funding from RUSA to offer Engineering and Technology courses. The University is taking steps to go in for NAAC Accreditation shortly. Palamuru University envisages itself as a new destination for higher learning in this part of the country and seeks to play a pro-active role in socio economic development of the region in the years to come.